BODYDOCTOR, PERSONAL TRAINER TO THE STARS
This fitness studio gym in St John's Wood is frequented by models, actors and movers and shakers from the world of TV and music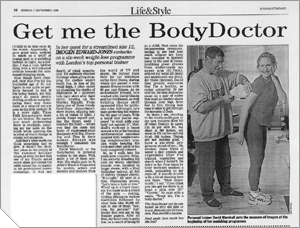 I used to be thin once. In the womb. Apparently, I gave great scan, without so much as a whiff of orange peel or a wobbling buttock in sight. As a toddler, I was a cute, fat-free thing with a well-adjusted attitude towards the communal changing room. How things have changed. Now that I've hit the wonderful age of 30, my figure is not quite so perfectly formed. In fact, if I'm being honest, my bits aren't so much gently drifting south as warp-factoring their way down there at a velocity not yet seen in the 20th century. It is a sorry sight. Those FHM bra-and-pants shots do not beckon. No matter how much air-brushing there is available, painting my toe nails on the beach while sporting the briefest of Gucci thongs is simply not an option. And that's what made me think something had to give. It wasn't the chub-ster jokes or the return of the summer holiday snaps, or even the fact that one of my friends asked every other girl round the table, except me, to appear in his promotional poster campaign. It was my dearth of retail opportunity. I'd suddenly reached the stage when going shopping for clothes wasn't much fun. In lieu of the retail high, I often ended up plumbing the depths of depression as I squeezed into tight skirt after tight skirt, eyeing up the Marina Rinaldi. From being one of those trendy first-floor department-store chicks, slipping into a bit of Ozbek or D&G, I slowly found myself scaling the floors until I reached the third – where you find the coats and loads of elasticated-waist designers with Big, Blooming and Plus in their names. Enough was enough. I contacted the Bodydoctor.
David Marshall, or the Bodydoctor, is personal trainer to the stars. Well, quite a lot of them anyway. His studio gym in St John's Wood is frequented by models, actors and movers and shakers from the world of TV and music. He trained Dani Behr for her television series Dani Dares, during which she passed a commando fitness course with 95 per cent fitness. As an ex-footballer himself, he's worked with David Ginola and Les Ferdinand, as well helping thesps shift unwanted kilos for particular roles. Self-taught, he's been perfecting his regime for the past 15 years. With a belief that you're supposed "to work with your body not against it", Marshall's work-out is based around a lot of fat-burning cardiovascular exercises coupled with weight-training complementary muscles while keeping the neck and other parts of the body completely relaxed.
So, as I walk into his multi-gym complex thing, I am secretly dreading the next six weeks. Marshall bounds over, barefoot in baggy shorts, with a Noel Gallagher haircut, all full of cheeky chappie charm. "R-i-i-i-ght," he says in a faux Mancunian accent, "Let's take a look at you." Wired up to a heart monitor, I'm made to do a round of the gym – rowing, cycling, pulling on various machines followed by what feels like 30,000 situps in one of those "hey, you, fat person!" harnesses that you see in the Sunday papers. After all that, my heart rate is quite low, as a result of being fit as a child. Next come the fat-squeezing crampons, testing to see just how much adipose my body has managed to squirrel away in the past 30 years. Grabbing great chunks from underneath my upper arm (21.7mm), around my waist (27.2mm) and underneath my shoulder blade (16.3mm), David then proudly announces that I'm a healthy, or rather unhealthy, 38 per cent fat. He then makes me stand on a pair of scales that send an electric shock through your legs, from foot to foot, timing how long it takes to get through the mounds of flesh.
So there I am, standing in the studio multi-gym in my new trainers (first bit of retail therapy in ages), I'm 38 per cent fat, my chest is 39.3/4inches, my waist is 37.1/4inches and my thigh 24.1/8 inches. Things are not looking good. I have a six-week programme ahead of me… No alcohol; three litres of water a day; protein and vegetables after I've trained, vegetables and starch when I haven't. No dairy or fat. Four times 1 1/2-hour work-out sessions a week, swimming on my days off. It sounds do-able with a bit of cheating here and there. "Most importantly," I say, "d'you think you can get me down to at least a slim size 12?" "'Course," he says with a smile. "Trust me, I'm a body doctor." The Bodydoctor can be contacted on 020 7235 2211or The Bodydoctor's website. Fees are £60 a session Next week: how much has she lost?