CHANGE SHAPE WITH LONDON FITNESS TRAINING
London gyms in Belgravia and Mayfair
Bodymorphing For Beginners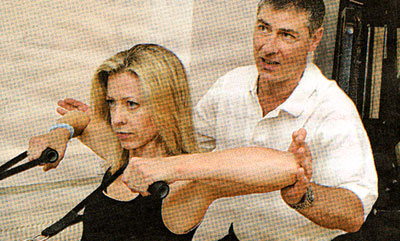 I WANT to change my shape. It's not as if I have a huge problem with my weight, but I can see a lot of room for improvement, not least because I will soon be on a sunlounger alongside a friend whose body has never deviated from a perfect size eight. The extra half-stone from winter is still hanging around my midriff, my dodgy back is threatening to "go", and I feel unfit and prone to minor injuries. But I also know there is an answer to all this. I call a number in north London and book myself in for the full works – an 18 session bodymorphing course.
My 'Bodydoctor'. as he styles himself, is David Marshall- He is the heavy artillery of London's fitness-training scene. For years he has been whittling well-known bodies into shape (he reduced Sophie Dahl from a size 16 to a 12). Most of the time, he is to be found in his gyms in Primrose Hill and Chelsea with his team of fitness teachers.
At the assessment, I'm in for a surprise. I may think I'm an old crock but Kelly, one of Marshall's five redoubtable trainers, tells me I'm actually very fit already and my body fat is only 17 per cent. "What you need is to work on your weak points." But can they make things that bit better? Most women who sign up with Marshall want the same things: a flatter stomach, a better backside, firm upper arms.
Those, he's confident, I can get. "All our exercises are designed to give muscles a long, sleek, flat look, rather than a pumped-up bodybuilder physique. You need to work each muscle group systematically and take each muscle through a full range of motion, so that's what we do."
The programme consists of 45 minutes of cardiovascular work, wrapped around a closely supervised 45-minute series of exercises for the arms (using dumbbells), legs and stomach. The little gym has a normal step machine, treadmill and stairmill, but there is also a fiendish variety of machines designed to reach parts that other machines neglect. There's an exercise bicycle with handlebars that move, a kayaking machine, and something where you lie on a bench and thump your legs downwards in a kicking motion.
The work is hard but not impossible. "We're not out to break you," Marshall booms jovially, but five minutes later he is berating Tom, one of his protégés, for giving me weights which he considers too easy. After two weeks, I'm exhausted and have neither shaped up nor lost weight. There has to be an easier way of doing this.
At the Luzmon, a stunningly beautiful spa-style clinic in Kensington, there are machines which are said to whittle you into shape while you lie back and watch TV. Intrigued, I book in, but find the process of being wrapped in thermal, electrostimulation pads which send surging currents through all the muscles between my ankles and my ribs not something I could repeat on a regular basis. You need to do this three times a week for several weeks to see results; lying there, teeth gritted against each jolt of voltage from the machine, I realise I'd prefer to be working out, and flee gratefully back to the Bodydoctor.
Each session follows the same set pattern of exercises, but each trainer has a slightly different way of doing things, and each adds in extras to keep me on my toes. There's the Vibrogym, a vibrating platform that makes squats even harder; the Gravity machine, an extraordinary contraption of pulleys and a sliding platform, which can be used to work any part of the body. Tom gets me kickboxing; Lanra is particularly tough on my abs. "You'll have the flattest stomach on the beach." she says. "Ten more."
By the end of the third week I can see all the muscles in my arms (they don't, thank goodness, look any larger) and my stomach is a wall of muscle which I can feel working at every step. A week later, I'm feeling good. After each workout, I feel hugely boosted, psychologically as well as physically. My back hasn't hurt for weeks. By week five, the results are spectacular. I've lost two inches from my waist, two from my hips, and two from my thighs. My arms are better toned and I've lost 81b, which according to the callipers is a loss of 22 per cent of my subcutaneous body fat. Am I pleased with myself? You bet I am. I think the Bodydoc is a genius. He says I did it all myself.