BODYDOCTOR PERSONAL TRAINERS AT PRIMROSE HILL AND CHELSEA GYMS
The diet and fitness regime adopted by stars such as footballer Rio Ferdinand and model Sophie Dahl
First he lost his hair, now shamed MP targets weight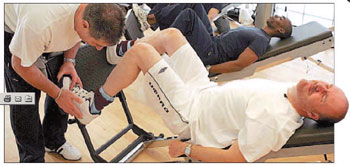 MP MARK OATEN has signed up with a fitness guru to help turn his life around following the sex scandal that almost cost him his marriage.
The Liberal Democrat politician, who blamed his affair with a male prostitute on a mid-life crisis triggered by hair loss, has begun the same diet and fitness regime adopted by stars such as footballer Rio Ferdinand and model Sophie Dahl.
He is being trained by David Marshall self styled Bodydoctor, who says he can help clients shed five inches from the waist or drop three dress sizes in six weeks.
Mr Oaten who resigned as Lib-Dem home affairs spokesman after encounters with a 23-year-old rent boy were revealed, is one of three politicians the BBC is following. The MP for Winchester who has a wife, Belinda, and two children, said: "I have been through a tough and stressful time and it has all been my own fault. I'm hoping this regime will be the start of a new me, a new life and will help me focus on me and my family.
"Exercise is a way of cleansing the brain, it's a mental health thing and I want to learn how to do that. I am the happiest I have been for years and I'm enjoying spending more time with my wife and children." The Bodydoctor's regime is designed to work the body as a whole. All exercises focus on the core muscles while developing flexibility.
Mr Marshall, who has been practising the programme for 33 years, believes that 90 minute sessions conducted three times a week will be enough to help Mr Oaten, Labour MP Meg Hillier, Conservative MP Shailesh Vara and Baroness Greenfield.
The 50-year-old, who runs gyms in Primrose Hill and Chelsea and charges £1,600 plus VAT for a six-week programme hopes once Westminster sees how effective his programme is, the Government will consider teaching the exercises in school.
He said "We don't train people, we teach people how to exercise and how to work out within their physical boundaries. When they have finished with us they have the knowledge and can do it for themselves. We don't act as a crutch like other personal trainers.
"I would like to see my regime become part of the national curriculum. "I have adapted many of my exercises for children and I think we need to promote exercise in schools to beat the obesity problem."
Ms Hillier, MP for Hackney South and Shoreditch, said: "I am hoping we can introduce this into schools. "The life expectancy difference between east and west London is extremely high and something needs to be done."
The series, Body Politics, will appear as a weekly item on The Daily Politics on BBC2, starting on Monday.
His regime
THREE 90-minute sessions per week for six weeks
Sessions involve:
15-minute warm-up.
45-minute systematic workout through all of the body's muscle groups. Aims to encourage flexibility, strength and balance
30-minute cardiovascular workout.
The diet includes:
Three main meals and two healthy snacks.
A low-fat breakfast.
Eating complex carbohydrates such as wholegrain bread before a workout and protein after.
Cutting out all sugar and refined carbohydrates such as biscuits.
Drinking at least eight glasses of water a day.