BODYDOCTOR, PERSONAL TRAINER TO THE STARS
Six-week fitness programme consists of fat-burning cardiovascular work at Primrose Hill Gym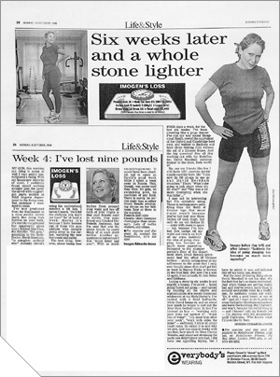 I think I might become a bit of a bore. You see, I think I'm beginning to enjoy working out. Well, perhaps not enjoy it exactly, but I'm certainly showing off. I've even started to snigger at Mr. Motivator's morning pansy workouts on the telly and the fat phone-ins on Vanessa. Not only do I now know the names of all the muscles in my body; I have developed an interest in Lycra. But, perhaps most worrying of all, for those who once called themselves my friends, is the fact that I'm starting to wear the most extraordinary clothes. Basking in the glory of David Marshall's results (four inches off my waist, two off each thigh, and an unfortunately looser bra) I can fit into my old wardrobe again, including short skirts and a red pinched-waist number I have not been able to squeeze into for five years. Even the skin-tight rubber trousers I split up the bum (rapidly repaired) have had an outing. It's all very encouraging. But if I'm being honest, it wasn't until I got back from Glasgow with a hangover that I understood the true joy of the Stairmaster. Walking into the Bodydoctor's studio, I started to climb. Fifty-two floors, 250 sit-ups, 50 leg lifts, 25 arm hammers, a row to Putney Bridge and a quick walk and I was feeling so much better. I even contemplated a vodka. 
Pounds lost: seven (wow!)
Cheats: weekend in Glasgow (I emptied the mini-bar).
Marshall's Internet site is www.bodydoctor.com, or phone 020 7235 2211. Sessions cost £60.
Imogen Edwards-Jones, London Evening Standard, 28th September 1999
Week four: I've lost nine pounds
My god this working out thing is going well. I very nearly contemplated a thong. With my brand-new buttocks of steel. I suddenly found myself walking straight past the up-to-the-navel-with-support-gut pants section in M&S lingerie department to the thong area. But somehow I managed to resist. I've now graduated from the Stairmaster to a cross-aerobic devise that's like doing high hurdles on your back. It' terribly complicated but apparently gives you a behind like Claudia Schiffer. "No gym" according to the Bodydoctor, David Marshall, "is complete without one". Actually David's using his motivational maxims a bit less. I haven't heard, "Do it for the children you don't yet have," for at least a week. Maybe it's because I have become one of those vile gym addicts who smugly pump away in the corner, watching the new boy sweat and suffer. The best thing, however, about losing four inches from around your waist and two off each of your thighs is that your friends start to notice. One male friend said I looked like Pamela Anderson, but I'm sure that was the nicest blonde he could think of at such short notice. Another acquaintance announced I was "much fatter last year". With so much encouragement it would have been churlish not to carry on David's good work while I spent a week away in Russia. This, though, was easier said than done. No gym, no swimming pool, no machines of any kind. These is surely no sorrier sight than a rather drunk female attempting sit-ups on her bedroom floor at three in the morning.
Pounds lost: nine
Cheats: More Georgian champagne than necessary. Lots of Vodka chasers, and
crisps. For exercise and diet sheet, contact the Bodydoctor, 020 7235 2211.
Imogen Edwards-Jones, London Evening Standard, 5th October 1999
Six weeks later and a whole stone lighter
IMOGEN'S LOSS
Pounds lost: 14
Body Fat lost: 8% (38% to 30%)
Inches lost: 5 (waist) 3 (thigh) 1 (upper arm)
Dress size: 12 (from 14)
Total cost: £1,440(£60 a session four times a week for six weeks) Four days a week, for the last six weeks, I've been sweating like a go-go dancer. I've run my way round Hampstead Heath, rowed the equivalent of the Oxford and Cambridge boat race, and walked to Hackney and back (from Notting Hill) without the aid of a Zimmer frame. And the big question? Has all this working out with the Bodydoctor, David Marshall, personal trainer to the stars, been worth it? No, say my friends (the few I still have left): exercise junkie equals exercise bore. Me: "I can now do 350 sit-ups in one go and David Beckham crunches." Them: "what's she going to talk about when it's all over?" and "She was a lot more interesting when she was fatter".." I may not be interesting but I'm certainly smug. There is nothing more satisfying than the thrill of trouser legs that move (twist even!) because you've lost just over three inches off each thigh. Not only do my old clothes fit – some with room to spare – but because I've also lost five inches off my waist and nearly an inch off my arms, suddenly the idea of going shopping has become so much more appealing. Relegated to the plumper person's floor of the department store, retail therapy previously had the effect of Chinese torture – slowly eating away at my self-esteem to the point that I only ever bought shoes (feet don't get fat) or went to Harvey Nicks to browse in the food hall. But now I'm a size 12 again, I can actually fit into Dolce and Gabbana. Losing a stone in six weeks is not exactly a breeze. I've cried – hated going/hated not going – and turned up exuding all the charm and sophistication of a moody hormonal adolescent at the Bodydoctor's. I've nodded with a fixed half-smile, while David bangs on and on about how much he wants to sort out the West Ham football team. In fact I've listened to him – "working with your body not against it", "drink lots of water", "you must look after your neck", "work both sides the same" – endlessly. I know all about heart rates, fat (what it is and why we are), how one muscle works with another, how much he likes Cheesy Wotsits, and about not straining the parts you didn't know you had. I did have one appalling injury, but I have to admit it was self-inflicted (fell off my heels, um, drunk). But the most irritating thing about David Marshall is not his chat; it's the fact that he's so damn motivated. Just when things are getting really bad and you've sworn more than is socially acceptable even in a traffic jam, he suddenly comes out with: "Do it with a good heart, or not at all." And all I want to do is perform some Gallagher Brothers semaphore and leave the building. But I haven't, and won't, because the awful thing is – and I haven't told my friends yet – I'm staying with his programme until Christmas. Who knows what I'll look like by then.
Imogen Edwards-Jones, London Evening Standard, 19th October 1999