BODYDOCTOR, PERSONAL TRAINER TO THE STARS
Six-week fitness programme consists of fat-burning cardiovascular work at Primrose Hill Gym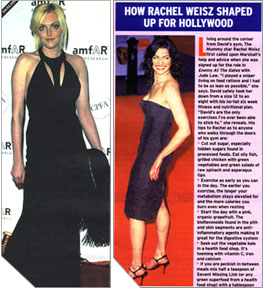 Jacqui Ripley meets the man who has performed miracles for stars needing to shape up fast Being in amazing shape has to be one of the top priorities for anyone who's constantly in front of the camera. Personal trainer David Marshall, otherwise known as "the Bodydoctor", understands how important body image is for the stars. "Celebrities need to look their best, it's their job," asserts the man who has helped shape up a bevy of celebs including Sophie Dahl, Rachel Weisz, Fay Tozer, Edith Bowman and Dani Behr. He's also responsible for beefing up Meg Mathews' triceps and biceps and tightening up her abs for her naked debut on the cover of Elle magazine. And Meg was so impressed with the results of her sessions with him that she brought pal Kate Moss along to the studio, who took away his fitness programme to do on her recent holiday in Thailand.
A former footballer, David's career was cut short by injury. It was this that made him realise he had to be stronger, fitter and faster, and he began taking a keen interest in getting the best results from exercise. Today Marshall runs his own state-of-the-art gym in north London's Primrose Hill that he refers to as his temple of fitness. His six-week programme consists of fat-burning cardiovascular work, which is combined with weights and powerful exercise moves. It's intensive and involves exercising three times a week for an hour and a half, as well as following a sensible eating programme – but the rewards are huge. You will drop three dress sizes in that time if you follow it diligently and use the right techniques. But David insists: "Getting slimmer is a byproduct of this programme, I'm not interested in scales. the aim is to put the body back in balance so it works efficiently and you begin to feel wellness as well as fitness. I put everybody on this programme. After the initial six weeks, boundaries can be moved and you can start fine-tuning."
David's no shy retiring type. He's a larger-than-life character with a booming voice, which might be one of the reasons he gets results. RI:SE presenter Edith Bowman can't speak highly enough of the "Doctor". "There's no space for slacking with David, he really knows how to work you hard. Since working out with him I now have the confidence to wear a skirt above the knee," she says. "My legs were a major worry to me, but properly performed lunges are just the move to get them looking toned. In fact my whole body has finally blessed itself with a much welcomed definition since I started with David."
Although personally sought out and recommended by famous folk, he's not in the business of kissing butts. He's actually more into kicking them into shape and his mantra's: "you needn't be wealthy to be healthy". Now he's launched his own home fitness programme which is a foolproof plan that you can watch, read, digest and then take the principles away to the gym with you.
HOW RACHEL WEISZ SHAPED UP FOR HOLLYWOOD
Livinq around the corner from David's gym, The Mummy star Rachel Weisz first called upon Marshall's help and advice when she was signed up for the role in Enemy At The Gates with Jude Law. "I played a sniper living on food rations and I had to be as lean as possible," she says. David safely took her down from a size 12 to an eight with his no-fail six week fitness and nutritional plan. "David's are the only exercises I've ever been able to stick to," she reveals. His tips to Rachel as to anyone who walks through the doors of his gym are:
Cut out sugar, especially hidden sugars found In processed foods. Eat oily fish, grilled chicken with green vegetables and green salads of raw spinach and asparagus tips
Exercise as early as you can in the day. The earlier you exercise, the longer your metabolism stays elevated far and the more calories you burn even when resting
Start the day with a pink, organic grapefruit. The bioflavonoids found in the pith and skin segments are anti inflammatory agents making it great for the digestive system * Seek out the vegetable kale in a health food shop. It's teeming with vitamin C, iron and calcium
If you are peckish in-between meals mix half a teaspoon of Savant Missing Link (or any green superfood from a health food shop) with a tablespoon of Savants Udo's oil (or hemp or linseed oil) and mix with some stewed apple or avocado. This will keep your blood sugar levels even and take away sugar cravings
Choose a workout that will stimulate your whole body and not one that works on selected parts of your body. So drop those legs, bums and tums classes if you want maximum results
Never order a fruit salad as dessert. David believes the different sugars from the different fruits combine and ferment in the stomach causing the stomach to bloat and distend
THE SECRETS OF SOPHIE DAHL'S FABULOUS NEW FIGURE
Sophie's figure Is always being speculated about. For a model that was famed for her curves and being a size 8, she's worked hard to achieve the size ten she has now, and seems to be shrinking all the time. "Sophie is a great girl and a delight to train," says David, "she's prepared to work hard and the results speak for themselves."
How she dropped her dress sizes: When initially following the Doc's diet regime and exact exercise plan, Sophie lost an impressive 61b in two weeks and whittled away five inches from her waist. She insists she didn't sign up with David to specifically lose weight but to look the best she can – be healthy and toned. "I loved the boxing and sparring we did together," says Sophie of her workout with David, "it's great for the upper arms and for venting aggression!"
And the secret to David's exercise plan is that there is no secret! "My set of 23 exercises, which includes bicep curls, press ups, squats and elevated crunches must be followed in sequence and should be performed slowly and precisely so that the muscles are doing the work, not the joints, tendons and ligaments," David says. When it comes to the nutrition plan Sophie follows, Marshall's basic rule is to never mix carbohydrates and protein together in one meal. "If you train in the morning then you should choose a protein lunch and starch dinner (but not late at night). If you train fn the evening, dinner should be protein based and lunch should be starch;" he says. "As a general guide, at a meal it's best to eat no more than will fill your two cupped hands together."