DROP THREE DRESS SIZES AT THE BODYDOCTOR GYM
The Bodydoctor Gets Results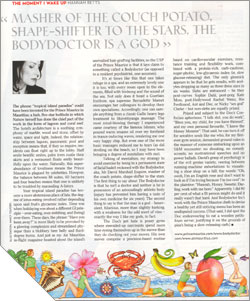 The phrase "tropical island paradise" could have been invented for the Prince Maurice in Mauritius; a lush, five-star bolthole in which Nature herself has done the chief part of the work in the form of lagoon and coral reef. The hotel's architecture is a soothing symphony of marble, wood and stone, offset by water, space and light. Indeed, the relationship between lagoon, panoramic pool and reception means that, if they so require, residents can float right up to the lobby. Staff smile beautific smiles, palm trees rustle their skirts and a restaurant floats eerily beautifully upon the water. Naturally, this superabundance of loveliness means the Prince Maurice is plagued by celebrities. However, the balance between 88 suites, 60 hectares and four beaches means that one is unlikely to be troubled by marauding A-listers.
MASHER OF THE COUCH POTATO, SHAPE-SHIFTER TO THE STARS, THE BODYDOCTOR IS A GOD
Your tropical island paradise has become a more abstemious place of late, the degree of lotus-eating involved rather depending upon said fruit's glycaemic index. Time was when holidaying was about a different GI principle – over-eating, over-imbibing, and (being) over-there. These days, the phrase: "Have you been away?" is more likely to be provoked by a glowing complexion and streamlined physique than a blubbery beer belly and third degree burns. And just as my Air Mauritius in-flight magazine boasted about the island's unrivalled hair-grafting facilities, so the USP of the Prince Maurice is that it lays claim to something called a Bodydoctor (as opposed to a resident psychiatrist, one assumes).
It's at times like this that one takes refuge in a spa, and an extremely lovely one it is too, with every room open to the elements, filled with birdsong and the sound of the sea. Not only does it boast a Guerlain Institute, spa supremo Bernadette Manner encourages her colleagues to develop their own specialisms. Accordingly, one can sample anything from a classic Gallic heavy legs treatment to Shirobhyanga massage. The most mind-blowing therapy I experienced came courtesy of the famous Ishram, who poured warm sesame oil over my forehead in trance-inducing waves, rendering me one very happy chip. But even one of the more basic massages reduced me to tears (as did strolling on the beach, so I may have been bringing a degree of mentalism with me).
Talking of mentalism, my strategy to avoid exercise by being in a permanent state of facial hadn't reckoned with the Bodydoctor, aka, Mr David Marshall Esquire, masher of the coach potato, shape-shifter to the stars. The first thing to say about The Bodydoctor is that he isn't a doctor and neither is he in possession of an astoundingly athletic body (injury has prevented him having a taste of his own medicine for six years). The second thing to say is that the man is a god – benevolent, hilarious, more than slightly barking, with a weakness for the odd snort of vino – exactly the way I like my gods. in fact.
The Doc's pet hate is posey gyms where steroided-up narcissists spend more time eyeing themselves up in the mirror than they do checking out your moves. His own moves comprise a precision-based routine based on cardiovascular exercises, resistance training and flexibility work, combined with a protein-rich, carb-cautious, sugar-phobic, low-glycaemic index (ie, slow glucose-releasing) diet. The only gimmick appears to be that he gets results, with acolytes dropping as many as three dress sizes in six weeks. Slebs are entranced – be they post-curves Sophie Dahl, post-preg Kate Moss, post-Hollywood Rachel Weisz, Rio Ferdinand, Ant and Dec, or Nicky "sex god" Clarke – but non-celebs are equally prized.
Prized and subject to the Doc's Confucian aphorisms "I talk shit, you do work", "Bless you, my child, for you have thinned", and my own personal favourite, "I know the Honey Monster". That said, he can turn it off for sensitive souls like me who, for my first ever gym session, demanded ground rules in the manner of someone embarking upon an S&M encounter: no shouting, no comedy accents, no motivational speeches and no power ballads. David's grasp of psychology is of the evil genius variety, veering between running-machine exhortations to visualising a shoe shop on a hill; the words: "Oh. oooh, I'm an English rose and don't want to look as if I'm trying because I'm too cool"; to the plaintive: "Hannah, Honey, Sweetie, Darling, work with me here." Apparently. I did 80 per cent of what a fit person might do and it really wasn't that hard. And Bodydoctor Inc's work with the Prince Mauric chefs to devise a healthy yet still enticing menu has been an undisputed success. (That said, I did spot the Doc endendeavoring to eat a wooden petits fours, justifying it on the grounds of pine's being a slow-releasing carb.)
The Bodydoctor can be contacted on 020 7235 2211.