The astonishing results achieved at Bodydoctor's private North London, Primrose Hill fitness gym.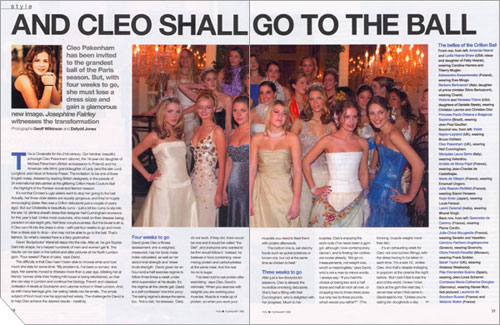 This is Cinderella for the 21st Century. Our heroine: beautiful schoolgirl Cleo Pakenham, 16-year-old daughter of Michael Pakenham (British Ambassador to Poland) and his American wife Mimi, granddaughter of Lady (and the late Lord) Longford, niece of Antonia Fraser. The invitation: to be one of just three English roses dressed by leading British designers in the parade of 24 international 'debutantes' at the glittering Crillon Haute Couture Ball, the highlight of the Parisian social and fashion season. (Where the previous year's 'new debs' included Lauren Bush, niece of George W. Bush, and granddaughter of former President, George Sr.)
It's not that Cinders' ugly sisters want to stop her going from the ball. Actually, her three older sisters are gorgeous, they're hugely encouraging – and sister Alex Pakenham was herself a Crillon 'deb', just a couple of years ago. But our Cinderella is curvy. Beautifully curvy. However, just a bit too curvy to slip into the size 12 slimline sheath that designer Neil Cunningham envisions for this year's catwalk creation. Unlike most couturiers who insist on their dresses being paraded on size 8 and 10 clotheshangers-with-legs – Neil likes a voluptuous girl, as we'll see. But the brutal truth is this: if Cleo can't fit into the dress in time – with just four weeks to go (and a dress-size-and-a-half to drop) – she may not be able to go to the ball. That's fashion. (Much to the annoyance of real women everywhere, of course.) So what's clearly needed here is a fairy godmother.
Well, David 'Bodydoctor' Marshall is no fairy. (In fact, he looks scarily like he'd crush you with your bare hands if you called him one.) But he's willing to step into the role. After all, he famously did it for Sophie Dahl. He's done it for hundreds of women (and fine-tuned the physiques of men like Nicky Clarke and Rio Ferdinand, too). The astonishing results can be seen in page-after-page of before-and-afters logged on the computer at his private North London (Primrose Hill) studio gym. Four weeks ? Piece of cake, says David. (Though cake's probably the last thing that's going to be going anywhere near Cleo's rosebud lips in the next month or so.) He's a man who likes quick results. Not quick results, natural results, he insists.
My problem is, I've been a nomad, says Cleo. Her parents moved over a year ago to Warsaw, billeting her at a series of friends' homes while their Notting Hill house is being refurbished, so that she can continue with her Biology, French and Classical Civilisation 'A' Levels at Godolphin & Latymer in West London. Like many teenage girls, her eating has been erratic, at best. The whole subject of food must now be approached wisely. The challenge, for David, is to help Cleo achieve the desired results entirely healthily.
Four weeks to go
Cleo has two fitness assessments with David; she's weighed, measured, has her Body Mass Index assessed, as well as her abdominal strength and sheer brute strength. David gives her an hour-and-a half exercise regime to follow three times a week under strict supervision at his studio. It's the regime all the clients get; David is a self-confessed 'One Trick Pony'. The eating regime's always the same, too. Not a diet, he stresses. Diets do not work. If they did there would be one and it would be called 'The Diet' and everyone who wanted to be thin would do it. Instead, he believes in food combining: never mixing protein and carbohydrates at the same meal. The real no no: sugar.
I've been told to eat protein after exercise, explains Cleo. David's rationale: when you exercise with weights you are working muscle. Muscle is what burns fat, and muscles are made up of protein, so when you work your muscles you need to feed them with protein, afterwards. It worked for cavemen (and women); it works now, he says. The bottom line is, eat starch – like jacket potatoes, or brown rice, but just not at the same time as chicken or beef.
Three weeks to go
Despite three meals a day, after just a few one-on-one Bodydoctor sessions, Cleo is already the incredible shrinking debutante. She's had an initial fitting with Neil Cunningham, who's delighted with her progress. Rather to her surprise – I've never been a gym girl, although I love contemporary dance – Cleo's enjoying the workouts, if not the thrice-weekly schlep across London, and is finding her clothes looser already. We go on measurements, not weight loss – which is meaningless,? says David, not a man to mince words. I always say: if you had the choice of losing two-and-a-half stone and half-an-inch all over, or losing two to three dress sizes and two to three pounds, which would you rather ? (The thinking: muscle weighs more.)
It's an exhausting week for Cleo : not one but two fittings, with the dress having to be taken in each time. I'm fitting into a size 12, smiles Cleo. And that's despite a Sunday-night-at-the cinema popcorn indulgence. But I didn't feel it was the end of the world. I knew I'd be back at the gym the next day. I remember when I first came in, David said to me: unless you're eating ten doughnuts a day there's no way you can't lose weight in here, and that made me feel better; I don't work well under pressure.
Two weeks to go
Small technical hitch: Cleo's inexplicably hurt her back, which is making training tricky – but she's sticking to the don't-mention-the-D-word, eating sensibly. At Neil Cunningham's Sackville Street atelier, the dress is taking shape: a stunning flesh silk strapless sheath, with an embroidered and beaded tulle overlay. Explains Neil: my theme for the season was The Glamour of Hammer Horror, with a touch of gothic. He loves working with Cleo's shape. Darcey Bussell is my muse, and I do a lot of clothes for very tiny girls, but it's lovely when you've got someone like Cleo, such a sexy little thing. I find the idea that you have to be stick-thin to be sexy offensive, frankly.
Ten days to go
Mum – Chanel-clad, super- elegant – has jetted in from Warsaw to help her daughter during the final countdown; she's clearly thrilled with Cleo's transformation. I'm back up support and team driver, smiles Mimi. Meanwhile, Cleo's nipped into Mikimoto – who each year bejewel the debs – where she's picked out £30,000-worth of peach coloured pearls to accessorise the dress. At Dune, first-time-lucky, they've found the shoes: black, beaded silk high heels, and not-too-expensive: after all, they're only going to get trashed, observes Mimi.
Four days to go
Cleo's final fitting. She looks amazing, statuesque – thanks to the oompher corset, laughs our Cinders – and is rapidly proving herself a natural before the camera. Mimi, Cleo and Neil discuss whether it's possible for the dress's lengthy, jet encrusted tulle train to be in some way made removable, for dancing; Neil agrees to put it on hooks, rather than sew it into the bodice. I'm terrified I'm going to ruin the dress, says Cleo. Don't worry about it; it's a party, that's what happens, says Neil, pinning the side-seams to take them in yet again. Well, he grins, worry about it a bit…
Three days to go
Cleo acquires nails. (Acrylic, courtesy of Scarlet Nail Salon on Westbourne Grove.); she has her hair streaked and trimmed, at her usual hairdresser, Le Léon, in Holland Park and Mum has been dispatched to find Donna Karan control top tights, which Cleo's been told take off another inch (as if she needed it.) She's excited. I'm just worried now that it'll be an anti-climax, she admits. I'm also looking forward to a giant cooked breakfast on Sunday!
Two days to go
Cleo and Mimi take the Eurostar to Paris. Mum delivers her daughter to the Crillon (where an extra bed has been shoe-horned into the twin room she'll be sharing with the other English girls: Violet Naylor-Leyland and Sarah Taylor), before heading to the British Embassy to join her husband Michael. In a distinctly girls dorm atmosphere, the debs are bonding. And doing a lot of damage on room service, admits Cleo. (The debs are forbidden to leave the building.)
The day before
A big photo shoot. The girls are dressed, made up, coiffed – then have to spend almost five hours hanging around in the bar eating peanuts while they wait to be photographed, knowing that Paris (and all its temptations) lies just beyond the ballroom door. As yet, most of the debs – including Cleo have yet to meet their escorts (many of whom have been painstakingly assigned by the event's co-ordinator, Parisienne super-PR Ophelie Renouard) and who will arrive in time for waltz practice tomorrow. The slight ennui – from all that hanging around – is tinged with anticipation.
The Big Day
After all her hard work, Cleo shall go to the Crillon ball. The roommates rise languidly late, bathe. Cleo spurns the Annick Goutal in-room smellies in favour of her own Fendi Theoroma body lotion, which gilds her perfect skin with teeny flecks of gold. In their civvies, they descend for a rehearsal – and meet their dates: in Cleo's case, David Hogan Hern, a third-year languages student from Oxford, who's been living in Paris and is as charming as fairytales demand. (If not quite Brad Pitt – which, says Cleo, is probably a good thing. I am so glad I didn't get someone who was incredibly good-looking and arrogant, or he'd have made me even more nervous than I already was.)
Proud parents watch their daughters, hand-in-hand with their beaux, being coached by Ophelie Renouard in how to make their fashion show twirls around the ballroom. They are also given a crash course in waltzing – er, emphasis on the crash and reassured that when the orchestra strikes up, they'll all turn into twinkle-toes. Upstairs, immaculately made-up, with her tumbling curls tamed and artfully arranged half-up, half-down, Cleo-the- sweet 16 slips into the dress. I do feel so glamorous, she beams, sipping vintage champagne. Dinner is scallops (which she loves) and beef (which she doesn't), but before pudding arrives, the debs moment comes. They are led around the room, to the frenzied popping of paparazzi flashguns. Several photographers tell Cleo she would make a stunning model. One of them, in fact, almost triggers disaster when he stands on Cleo's train; she hears a ripping – and can't move, until one of the other debs comes to her rescue. (and the damage to the dress, which is worth thousands, is barely visible). She dances with her escort – and her father, which was wonderful; I laughed all night.
Midnight strikes
Our Cinders ballgown has not disintegrated, and she doesn't flee (leaving a Dune slipper behind). Indeed, at 1am. Cleo and a group of new-found friends leave the revellers by limo for the somewhat less palatial (but infinitely more groovy) surroundings of a Champs Elysées nightclub, V.I.P., where the sea of people waiting outside parted and we strolled right in like movie stars, smiles Cleo, who eventually falls into bed at 5 a.m.
The morning after the night before
With just three hours sleep, a somewhat hungover Cleo has to get up and meet her father downstairs to sort out the room service bill, which has reached stratospheric proportions. (That longed-for cooked breakfast's off, then.) He calmed down when I explained to him that a Diet Coke from the mini-bar cost a fiver, and that almost all we'd been given to eat for two days was cake, says Cleo, who's still determinedly eating healthily and will continue to do so. I've been offered 20 more sessions at the Bodydoctor, she smiles. So I'm going to keep up the good work. Not obsessively, insists Cleo, just healthily…
David Marshall, the Bodydoctor(r), is on 020 7235 2211, or for more information visit his website: www.bodydoctor.com.