GET THE BIKINI BODY WITH BODYDOCTOR FITNESS
The Bodydoctor easy-to-follow fitness programme that can transform your body in six weeks
A sceptical Anna Murphy is persuaded to abandon her one-piece swimsuit in Mauritius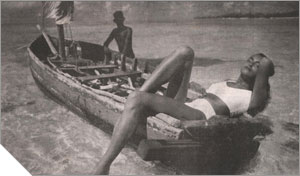 It is that time of the year when you can't open a magazine without being told "how to get a bikini body in two weeks". Rarely having managed to read beyond the first paragraph, never mind do anything about it, this year I decide to proceed rather differently: I will acquire the "bikini body" of my dreams while actually on holiday. It seems I'm not alone in wanting the perfect bikini look. According to a recent Slim-Fast survey, many British women envy foreign women's bodies on the beach, with one in five of us apparently prepared to sacrifice a pay rise to look better on the beach.
But I don't fancy the 24hour fanaticism of a spa to get the look, or to be surrounded by health obsessives. So instead I plump (pun intended) for what I hope will be the best of everything: a conventional hotel, with an unconventional attitude towards fitness. I have heard that David Marshall, the self-styled "Bodydoctor" fitness trainer who's toned up many a podgy famous name (most notoriously Sophie Dahl), is taking his craft from London to a hotel in Mauritius, Le Prince Maurice.
Marshall is celebrated for having formulated a simple easy-to-follow programme that can transform your body in six weeks. Le Prince Maurice is celebrated for being the acme of French style luxury. Mauritius is celebrated for being very nice. What more can I ask?
The hotel is indeed wonderful. So wonderful that as I lie by the infinity pool overlooking the white sand beach on my first morning, and a member of staff hands me some Evian facial spray and a mango sorbet, I wonder what on earth was I thinking of committing myself to daily hour-and-a-quarter long fitness sessions. Suddenly the idea of fitting into the bikini languishing at the bottom of my suitcase couldn't matter less. What is wrong with the school-uniform-style one piece I am sporting anyway? Nothing, until I have my first session with Marshall.
The Bodydoctor programme proves, I am relieved to find, to be as straightforward as its billing. Each session begins and ends with 15 minutes' aerobic exercise. The innovative stuff is the 45 minutes or so in the middle, a sequence of weights in which each exercise works one muscle group while also stretching the muscle group worked by the previous exercise. What's more, each exercise is repeated no more than 25 times, the idea being that if you use a heavier weight at fewer repetitions, you build lean muscle more effectively. And lean muscle, Marshall reassures me, is what increases our metabolism and helps us lose fat. Which in turn helps us look good in a bikini.
Marshall is evangelical about what he does. And as I grunt and grimace my way through the routine he evangelizes loudly and in numerous different accents (Chinese being a particular favourite). He also treats me to a number of what I am to learn are Bodydoctor catch phrases: "Trust me, I'm the Bodydoctor", "Bless you child for you have thinned", `I talk s****, you get fit". Strange as it may sound, all of this makes the session pass in a flash. And though I had laughed when Marshall said I would feel invigorated rather than tired, by the end, darn it, he was right – as he is, I would come to learn, about so many things.
Indeed, the only stress I feel as I leave the gym is the prospect of dinner at the hotel restaurant. Am I going to undo all Marshall's good work straight away? I have never subscribed to the notion that food that tastes great can also be great for your health – I like buttered white toast too much for that – so it is with some trepidation that I open the Prince Maurice Healthy Option menu. But I have to say that a couple of hours later, having eaten smoked marlin salad, grilled beef tenderloin with buckwheat seeds and black lentil fricassee, and pineapple and mango carpaccio, I am also having to eat my words.
And so it continues throughout my stay. I go for a workout every day (possible with this regime, unlike most others, because your body is never overworked). And the rest of the time I do all the normal beach holiday things: swim in crystal waters, lounge under palm trees, go on boat trips, meet nice, normal non-spa type holiday makers who wouldn't know the circumference of their thighs if their life depended on it. Most important, I also eat a lot, all of which is truly delicious, but Marshall assures me that as long as I am sticking to the Healthy Options menu all those things that taste so good you can't believe they aren't even the teensiest bit naughty, really aren't in the slightest.
The Bikini makes its long-awaited debut on the penultimate day, and while I am never going to give Elle McPherson a run for her money, at least I don't have to hold my stomach in any more. Indeed, by the time I return to London I am so taken with the Bodydoctor programme -I am already noticeably more toned, and my fitness levels have increased dramatically – that I have decided to continue visiting Marshall for the full six-week programme. All I need now is the Prince Maurice chef on call and a tropical beach at the bottom of my garden.