LOSE FIVE INCHES FROM YOUR WAISTLINE, WITH THE HELP OF A PERSONAL TRAINER
A Workout With Bodydoctor's Personal Training
Sophie Dahl lost a stone after training with the Bodydoctor – so Helen Dunne pulled in her tummy and put him to the test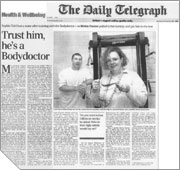 MY personal trainer didn't try to cushion the blow as he presented the results of my fitness assessment. My heart and lung function was "not good"; my strength to weight ratio was "not good"; my core abdominal strength was "so-so"; and my outright brute strength was "not good". Then he turned to me, smiled and said: "But don't worry about any of that. Trust me. I'm the Bodydoctor."
Gym'll fix it: Helen Dunne lost five inches from her waistline, with the help of a personal trainer and a carefully devised programme.
I had just spent the past hour puffing on the stepper, struggling to do a couple of press-ups and trying to pull myself up and down on a machine resembling something out of a medieval torture chamber. But nothing had compared to the humiliation of watching David Marshall, my trainer, clamp calipers over various parts of the body to measure my subcutaneous fat. If they rolled me out flat, I could re-surface the M25.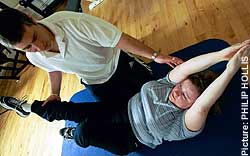 My waist, Marshall announced, was 44in, which came as a huge shock to me because when I'd measured myself that morning it had only been 37in. I had not been happy – 37in is the size of a bust, if a girl's lucky, or a pair of hips. It is not a measurement for a waist that for years had been happy enough at 26. Marshall explained that he was measuring around the belly button; that did not make me feel any better.
Three years ago, model Sophie Dahl signed up for the Bodydoctor programme as part of an effort to get fit. Five weeks later, she left one stone lighter and two dress sizes smaller. Rachel Weisz was so impressed with her results that the producers of The Mummy Returns hired Marshall to set up a gym at Shepperton Studios and train the cast. He even helped improve West Ham's performance last year.
If it worked for West Ham, I reasoned, surely it could work for me. After three long phone calls, I finally paid my £1,500 plus VAT for the 20-session programme when Marshall asked: "Do you want to lose 14lb in fat, at least five inches off your waist and double your fitness level in six weeks?" Who in their right mind is going to say no?
Of course, some people find it difficult to get to the gym in Primrose Hill, north London, so Marshall has published a book of the Bodydoctor programme. Rachel Davis bought it as a last-ditch attempt to shed weight before her wedding. In five weeks, she has lost 20lb and is down "two to three dress sizes". Her fiance, Nathan, lost over a stone in 10 days. Amazingly, Davis's asthma has even improved, as many medical conditions seem to as a direct result of the Bodydoctor programme. One leading private healthcare provider wants to offer it to clients as a preventive measure.
The Bodydoctor programme is a set of 22 exercises that must be followed in sequence, because each is designed to offset any negative effects of the previous one. So, for example, after lying on the bench and exhausting yourself pushing two dumb-bells above your chest, the next movement involves clasping a single dumb-bell in both hands up above your head and slowly moving it down in an arc-like movement. This stretches the arms and somehow alleviates all the earlier aches and pains. (It proved to be my favourite part.) Each exercise must also be repeated 20 to 25 times, because Marshall believes that creates enough heat to burn fat at source.
My first training session proved uneventful. There were no warm-ups or stretches. Instead, it was 10 minutes on the stepper, 10 minutes on the rower, then the Bodydoctor programme, ending with a further 20 minutes of cardiovascular exercise. I learned a different way to do lunges (tricky to keep one's balance), a new way to do squats (similar to a tribesman sitting by the fire), and a whole host of exercises with one of those stomach roller machines advertised in Sunday supplements – but when I walked out I felt fine. Pah, I thought, this is going to be easy.
How wrong can a girl be? The trainers – Marshall has three working with him – start everybody off slowly. Muscles need time to learn the programme, but – the theory goes – once they do, it is impossible for them to forget. You can skip the gym for a while, but when you return, the muscles take a minimal period to return to their previous fitness levels.
The other trainers might have been quieter than Marshall (the decibels rise quickly when he arrives in the gym, as he rushes around asking clients "how many dress sizes?" or singing "bless you my child, for you have thinned") but they were just as deadly.
After I cheerfully kept a conversation going while pulling 45lb on the "lat pull", a note was made on my file to increase the weights next time. Apparently, if you can talk, then you have spare capacity. When I pushed and grunted through seated shoulder presses or bicep curls, I'd be rewarded with an extra 10 hammers, forced to hit the dumb-bells into the hands of the trainers when I really wanted to hit them into their faces. The stomach rolling was also less fun when it involved 100 repetitions with your legs at right angles or in the air.
But the biggest difference in week two came with the space machine, or what Marshall calls "an out of this world experience".
I had watched clients being strapped into the cross-aerobics machine, and felt a little inadequate that I was missing out. While they lay flat and pushed down with their feet on large weighted pedals, I was guided to the treadmill. Soon it was my turn. I was excited. For about two minutes.
It was hell, and impossible to cheat because the weights would clank like a primary school telltale. Also, it was 15 minutes of hell, the only reward being the final revelation that you had pushed 22 tons over one and a half miles. It proved you had suffered, before suffering some more, walking on a sloping treadmill.
Once, I spotted Dervla Kirwan, star of Hearts and Bones, in the gym. She had signed up to get fit for a 10km charity race, never having run before. Kirwan completed the race in 48 minutes. "Now I run everywhere," she said. "I was terribly lazy about exercising before, but I am just so fit now." In six weeks, she shrank from a "generous size 10" to a size six. [Expletive deleted.]
In week five, there was great excitement when Maria learnt she had shed over six inches from her waist. I watched her celebrating as I puffed away on the rower, and secretly panicked that I might be the first person not to succeed on the programme.
I had been following the food-combining diet plan that Marshall recommends religiously, and avoiding wheat and sugar (although I couldn't quite manage caffeine). I'd even managed to eat just carbohydrates the night before training but, after the horrors of September 11, I had begun to comfort eat. Could it have altered the effects?
The moment of truth came all too soon. I tried to starve myself the day before to improve the measurements, but it wasn't necessary. The calipers revealed I had lost more than 30 per cent of the ugly fat that padded my belly, while two inches had miraculously disappeared from my bust, taking three inches from my hips with it. But it was my waist that made the effort all worthwhile. On Marshall's measurement, it was down more than five inches to 38.875 inches. On mine, it was down to 31.
"It starts speeding up now," he told me. "As your body gets leaner, the fat is burned off more quickly." I needed no more convincing. I've signed up for a second course of the medicine.