LOSE WEIGHT WITH THE BODYDOCTORS WORKOUT AND FITNESS TRAINERS
With a Bodydoctor personal trainer, anything is possible
Lose weight and gain fitness in record time? With the Bodydoctor's workout, anything is possible, as LISA BRINKMARSH finds Clients are put through a ruthless workout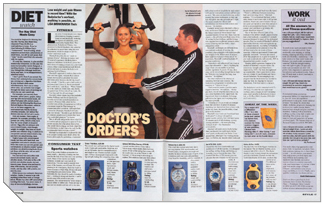 Last year, I wrote about a new fitness phenomenon sweeping London's smart set and drastically reducing the figures of celebrities, most memorably Sophie Dahl. This phenomenon, Bodydoctor Fitness, was pioneered by David Marshall, who achieves fat reduction in record time using his own programme, which he adapts to suit his clients' individual needs.
Marshall describes this as "made-to-measure fitness". Relying on instinct and 25 years of experience, the Bodydoctor diagnoses imbalance in the body, prescribes three doses of training a week over a six-week course, offers sound nutritional and lifestyle advice and aims to restore the body to its optimum level of fitness.
Marshall's approach is ruthless, but works time and time again. Amanda Ross almost turned down a job as presenter for a new television series because she felt she wasn't slim enough. "I had five-and-a-half weeks to go from a size 14 to a 10. David convinced me I could do it," says Ross. "When I turned up at the studio six weeks later, they barely recognised me. I'd lost 4in off my waist, 2in off my hips and 2in off each thigh."
Marshall, whose clients have also included Robbie Williams and David Ginola, has recently moved into secluded premises in London's Primrose Hill, where he has installed state-of-the-art equipment as well as a treatment room for Thai massage or acupuncture after a workout. Although there is room for 20 people, Marshall will only train one-on-one. "In order to get the best out of someone, people need to know they have your undivided attention," he insists.
This is all well and good for those who live in London and are prepared to spend £75 on a private session, but what about those of us who would like to change our body shape but live elsewhere, or don't have the cash for the recommended three sessions a week?
Marshall has responded to nationwide calls from people wanting more details about his fitness philosophy by publishing a laminated full-colour workout (available by mail order) with precise instructions on how and how not to do it. "My aim is to teach everyone in this country the correct techniques, so they can take this guide into any gym and get it right. Too many people buy fitness club memberships and then are left to their own devices," he explains.
I initially turned down Marshall's offer to train me because I had become sceptical of the fitness trainers at whose hands I had sustained injuries. It was only when I saw his clients – the girl who went from a size 24 to 16 in time for her wedding, and the woman who regained her washboard stomach within weeks of having her first child – that I changed my mind.
Marshall's techniques are different from conventional methods of training. He combines yoga principles with cardiovascular and weights work. Where most of us have been taught to exercise in three sets of 10 repetitions, Marshall's method includes 25 nonstop repetitions.
"Exercise is only effective if you work to muscular exhaustion – that is, reaching the stage where you are unable to perform another repetition. If you do 10 reps, then stop, you're not creating enough heat to burn fat. With my way you get flat, long, lean muscles," he explains.
The other surprise is the absence of stretching between each exercise. His workout is a programme to stretch as you exercise, or "clean as you go".
"Each exercise causes a positive and a negative reaction," he explains. "On the pec deck, you develop the chest, but as you also create tightness in the upper body, the logical next step is an adapted, full-range pull-down that opens out everything from the waist upwards.
"Cleaning as you go avoids an overtight body that you have to spend 20 minutes stretching out. Instead you have a body with, at the very least, the same flexibility it had prior to the session."
Marshall's key words are breath and heat. In the past I've always skimped on cardiovascular activity, but with him I spent 20 minutes each of hill climbing, rowing, running and then – the most gruelling workout of all – the Stairmaster cross aerobic.
Marshall will push you to levels further than you dreamt you could reach, but he won't push you beyond your limits. I was amazed that, although I was working harder than ever before, my muscles didn't ache and the pain in my knee and back was alleviated. "There's a difference between exercising hard and exercising clever," Marshall explains. "If you bombard the body with a stress factor it can't cope with, it will go into rebellion. Ninety per cent of people who go into gyms get injured at some time and put it down as an occupational hazard. It is not a contact sport and there is no reason why people should get injured."
One of the most effective parts of his workout is the abflow (clearly depicted in his mail-order workout), a sequence of stomach exercises designed to target all the abdominal muscles. Just two weeks of Marshall's abflow shed inches from my waist and tightened up my stomach muscles. According to Marshall, it is not uncommon for someone to lose 5in off their waist after six weeks of these exercises, which are performed 25 times and gradually increased. "Seventy per cent of effort that people put in at gyms is wasted. If you work systematically and correctly, 90% is channelled into positive results."
Despite initial scepticism, I appear to be another of Marshall's success stories. He reckons my strength and fitness have improved by 250%. My body has tightened up considerably. I have gone down a dress size, my clothes fit much better and I have muscle definition. So encouraging is my progress that the Bodydoctor has decided to make my body his flagship for the new millennium. Now that really is a miracle.
The Bodydoctor can be contacted on 020 7235 2211. To order his new mail-order workout, call 020 7235 2211