BODYDOCTOR FITNESS
Carlos Jalon – Bodydoctor Bodywork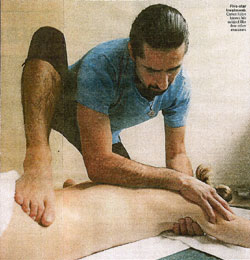 What it promises: To unknot the body and put it in balance with the mind.
What is it like? The peaceful, light treatment room set into the corner of a busy gym (no candles, no scented oils) seems an unlikely setting in which to find a world-class massage, but David Marshall of Bodydoctor Fitness has a reputation for ferreting out brilliant practioners for his elite clientele (top actresses to top footballers) and Carlos Jalon has been his masseur of choice for 15 years. As massages go, this one is extraordinary, the ultimate treat after a tough workout. Carlos uses his feet as much as his hands in a style of bodywork he describes as "instinctive and flowing". I am encouraged to breathe deeply and sigh out stresses and strains, which seems remarkably hard work, as Carlos kneads and pummels and stretches. I left feeling terrific; easier within my skin, and de-stressed in mind as well as body.
Downside: My neck is so tense that I find lying on the floor with it turned to the side tricky; but Carlos sorts that out too.
Verdict: Sensationally good.
Expert View: Combines deep massage of the body with lymphatic drainage, with the aim of releasing physical and mental blocks in the body and flushing out toxins. Jalon has trained in every style of massage from Ayurvedic to Swedish over the past 20 years, so knows his subject like few others. Brilliant for improving all-round wellbeing.
Call 020 7235 2211for an appointment.