SUPER FITNESS PERSONAL TRAINER
Lose a stone, five inches from your waist and double your fitness in just six weeks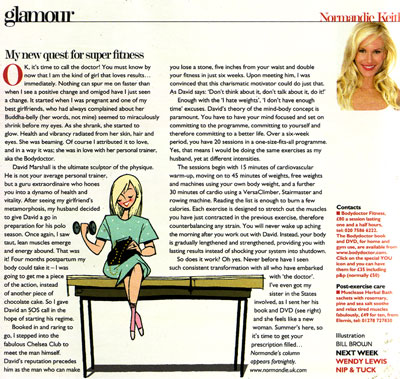 OK, it's time to call the doctor! You must know by now that I am the kind of girl that loves results… immediately. Nothing can spur me on faster than when I see a positive change and omigod have I just seen a change. It started when I was pregnant and one of my best girlfriends, who had always complained about her Buddha-belly (her words, not mine) seemed to miraculously shrink before my eyes. As she shrank, she started to glow. Health and vibrancy radiated from her skin, hair and eyes. She was beaming. Of course I attributed it to love, and in a way it was; she was in love with her personal trainer, aka the Bodydoctor.
David Marshall is the ultimate sculptor of the physique. He is not your average personal trainer, but a guru extraordinaire who hones you into a dynamo of health and vitality. After seeing my girlfriend's metamorphosis, my husband decided to give David a go in preparation for his polo season. Once again, I saw taut, lean muscles emerge and energy abound. That was it! Four months postpartum my body could take it- I was going to get me a piece of the action, instead of another piece of chocolate cake. So I gave David an SOS call in the hope of starting his regime.
Booked in and raring to go, I stepped into the fabulous Chelsea Club to meet the man himself. David's reputation precedes him as the man who can make you lose a stone, five inches from your waist and double your fitness in just six weeks. Upon meeting him, I was convinced that this charismatic motivator could do just that. As David says: `Don't think about it, don't talk about it, do it!'
Enough with the `I hate weights', `I don't have enough time' excuses. David's theory of the mind-body concept is paramount. You have to have your mind focused and set on committing to the programme, committing to yourself and therefore committing to a better life. Over a six-week period, you have 20 sessions in a one-size-fits-all programme. Yes, that means I would be doing the same exercises as my husband, yet at different intensities.
The sessions begin with 15 minutes of cardiovascular warm-up, moving on to 45 minutes of weights, free weights and machines using your own body weight, and a further 30 minutes of cardio using a VersaClimber, Stairmaster and rowing machine. Reading the list is enough to burn a few calories. Each exercise is designed to stretch out the muscles you have just contracted in the previous exercise, therefore counterbalancing any strain. You will never wake up aching the morning after you work out with David. Instead, your body is gradually lengthened and strengthened, providing you with lasting results instead of shocking your system into shutdown.
So does it work? Oh yes. Never before have I seen such consistent transformation with all who have embarked L with `the doctor'. I've even got my sister in the States involved, as I sent her his book and DVD (see right) and she feels like a new woman. Summer's here, so it's time to get your prescription filled…