BODYDOCTOR POST PREGNANCY PERSONAL TRAINER AND FITNESS GURU
Thanks to Bodydoctors personal training, you could be back in jeans within two months of giving birth.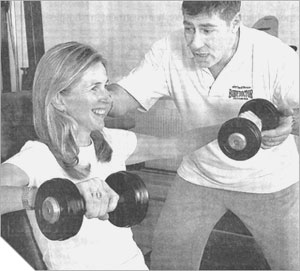 Thanks to David Marshall's unusual training, Alice Thomson was back in jeans within two months of giving birth.
Personal trainers don't have a great name these days. Carole Caplin and her toxic showers and Flowtron boots make me blush when I say I'm consulting a fitness guru. But that's what David Marshall is.
"Trust me, I'm the Bodydoctor," he says, taking a slug of black coffee and eating a doughnut. "See this woman, she's lost 42 stone on my programme." He points to a svelte woman on the step machine. I panic. Is this man really serious?
Sophie Dahl lost more than two stone on his programme; Rachel Weisz convinced the producers of The Mummy Returns to hire Marshall for the whole film cast, she was so impressed. West Ham United's coaches use him to keep their footballers injury-free. Rio Ferdinand swears by it. And Kate Moss has been seen at his gym since she gave birth to Lila Grace last September.
Even the PPP Healthcare private medical group has endorsed the programme to improve the health of its 2.5 million members, aware that obesity is now linked to more than 30,000 deaths a year. I meet Marshall at his gym in Primrose Hill, north London. It's six weeks since I had my second baby, and I can still barely squeeze into my jeans. He measures my weight, my heart and lung function, and my fat, with giant callipers, and asks me about my physical and mental health. Having a baby wasn't this personal.
Then comes the assessment: "You're not fat enough to do anything dramatic," he says. "But we'll help you rediscover your stomach muscles, rebalance your body and get your energy back."
Marshall understands mothers. He has a wife and a toddler. All pre- and post-pregnancy exercise, he says, should be primarily to help the baby. First, you need to provide it with a healthy supply of oxygen in the womb, and then you need to be able to carry your baby around the supermarket.
"Women often feel like Demis Roussos in a kaftan when they're pregnant. I want them to feel like goddesses," he says. "The fitter they are, the easier it is to cope with those sleepless nights and still look fabulous.
"One day, new mothers have lots of energy, the next, they'll have been up all night and they're wobbling all over the place. You have to know when to push them. They want to become lean, mean fighting machines, not bulked-out Bob the Builders."
He's convinced that exercise prevents postnatal depression, and takes breastfeeding seriously. "You are not to stop eating. Food is fuel for both of you." After prodding my stomach, he decided I could start with 200 gentle sit-ups.
Three times a week for six weeks, I went to see the guru. Marshall's team put me through my paces while he ran around saying things like: "Bless you my child, for you have thinned." If Marshall trains you personally, you lose a stone in sweat. He may not practise what he preaches, but his programme works. He's like Jamie Oliver, only his favourite raw ingredients are pure lard and new mothers, rather than rocket and unemployed teenagers.
After three weeks, I was back in my jeans. By the end, I could wear a bikini – just. I hadn't lost 42 stone or even 421b; I'd gained muscle. A five-mile run with my baby is now as easy as changing a nappy, and I am still eating four meals a day (although Marshall tried in vain to convince me to cut out the three white evils – flour, sugar and salt – and stop drinking tea and consume two litres of water a day).
Other mothers say the same. Most are thinner now than they were before they became pregnant. One, Claire Harrison, had four boys in three years. "When I came to David, I had serious damage to repair," she says. "I used to climb and run before the boys. But the pregnancies had taken it out of me. Now I'm fitter than before."
So how does it work? Marshall combines Pilates, yoga and weight training to produce a set of 22 exercises that must be followed in sequence, each exercise counter-balancing the last. Dumb-bells fly, before you move on to squats, thrusts and stomach exercises, Each exercise has 25 repetitions. The session ends with half an hour of puffing on various torture machines. The same programme is used for everyone from asthma and ME sufferers to footballers, Olympic athletes and businessmen and mothers – at different levels.
"What do you want to do now?" Marshall asks "Pole dancing? A marathon? We've had them all." "A triathlon would be fine," I say. And I know I could do it. When Kate Moss returns to the catwalk, she'll look better than ever.