FITNESS PROGRAMME WINS MEDICAL APPROVAL
Leading medical establishments are using celebrity fitness guru in the fight against obesity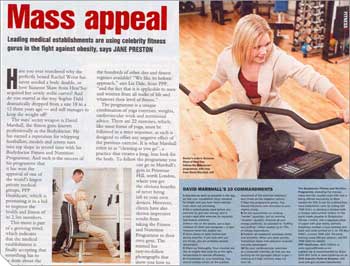 Have you ever wondered why the perfectly honed Rachel Weisz has never needed a body double, or how Faye from Steps and Suzanne from Hearsay acquired their newly toned curves? And do you marvel at the way Sophie Dahl dramatically dropped from a size 18 to a catwalk 10 three years ago – and still manages to keep the weight off?
It isn't a coincidence that they're all clients of David Marshall. He is the fitness guru known professionally as the Bodydoctor and viewed by the entertainment industry as the 4th emergency service. "When I needed to get in shape for a film he took me safely down from a size 12 to size 8 in just six weeks", says Weisz. "David's programme has made me amazingly fit and much smaller."
He has earned a reputation for whipping footballers, models and screen stars into top shape in record time. Last season Marshall – a life-long West Ham FC fan – was brought in by manager Harry Rednapp to train the squad and bolster his players' fitness levels. Rednapp instantly noticed an improvement in his team. "A lot of the lads had no strength, but David's special training methods made them fitter and stronger, especially in tackling situations."
Ex-West Ham player Rio Ferdinand, who now plays for Leeds, is full of praise for Marshall's methods. "I was fit before, but David took me to the next level" he says. "I am stronger on the pitch and have noticed a great improvement in my playing since training with him. It had definitely enhanced my football and if it makes you look better in the mirror – which it has – then that's an added bonus."
Since training with Marshall, Ferdinand has become an England regular and the bedrock of their defence, while other players who followed the programme – such as Trevor Sinclair, Michael Carrick, Joe Cole and Frank Lampard – are now also regulars' in the squad. But you don't have to be a world-class sportsman to follow the Bodydoctor Fitness programme. Anybody – regardless of age and level of fitness – can benefit from Marshall's unique combination of yoga principles, weights, cardiovascular work and nutritional advice. Indeed, while his gym in London's Primrose Hill is often filled with famous faces, it is the new mums, unfit executives and people recovering from injuries or health problems who form the bulk of his clientele.
"Initially, people come to us for aesthetic reasons, because we have a reputation for getting record results in record time" says Marshall. "You can take it as given that if you follow my programme explicitly and exercise correctly you will lose body fat, get lean muscle, reduce weight and increase fitness. The hidden benefits that aren't instantly apparent then come to the fore – the heart and respiratory system becomes stronger, blood pressure regulates, bone density improves and the immune system gets a massive boost. You get such a wholesale improvement in health that the aesthetic becomes secondary. What we do is make people healthy."
The nation's health is a subject of great concern to the Government, industry and private medical groups who are left to cover the cost of our increasingly unfit and unhealthy lifestyle. Recent research indicates that obesity is a contributing factor to 70 per-cent of illness and disease while more than 187 million working days are estimated to be lost annually because of sickness – at a cost to industry of almost £12billion. The latest Government figures show that almost 90,000 people die every year before they reach their 65th birthday – with more than 32,000 dying of cancer and 25,000 from heart disease.
Heather Clark, an A & E hospital consultant and Sports Medicine doctor who is Club Medical Officer of QPR football club says: "Many people don't realise that, in the battle against heart disease, fitness is as important as giving up smoking. The Bodydoctor Fitness programme is safe for everybody, young and old, and is the key to unleashing fitness for the rest of your life."
Marshall's fitness programme has even won the approval of one of the world's largest private medical groups, PPP healthcare, who have gone into partnership with him. It is the first time a private medical group has endorsed and promoted a fitness programme in the UK. "We are committed to helping people live longer, healthier lives and are able to offer this by working in association with Bodydoctor Fitness" says PPP healthcare spokesperson Liz Dale. "Not only can regular exercise play a key role in preventing illness and maintaining well-being, but it is also an important factor in the treatment of many medical conditions. By participating in this programme with Bodydoctor Fitness we hope to encourage and empower our 2.5 million members toward a healthier, more active lifestyle."
So what is it about Bodydoctor Fitness that works where other methods perhaps don't? The programme is based on the principle that true fitness means your body should be strong, fit and flexible. A former footballer whose career was cut short by injury, Marshall's mantra is to "work with the body, not against it" through "heat and breath, repetition and low intensity exercises".
He explains that the set of 22 exercises must be followed strictly in sequence – with no improvisation – because each is designed to offset any negative effect of the previous exercise. It is what Marshall refers to as "cleaning as you go", a practice that creates a long, lean look.
So how do you get the figure of a Hollywood star – or an England footballer? If you can afford personal tuition from Marshall or his team of top fitness teachers you get the obvious benefits of never being left to your own devices. But if finances won't stretch or you don't live close enough to get to his gym, clients have shown equally impressive results from following his manual, which teaches you what to do and, equally importantly, what not to do. This is now joined by the newly released video and audio-cassette – "the idea being" says Marshall, "that you see it, read it and then take it to the gym and have your fitness teacher in your ear as if they are with you in the flesh." There is also an interactive Bodydoctor website that enables you to establish your level of health and, should you wish to become a member, show you how to improve your fitness.
But if you are a bit gym-shy and think this sounds like all work and no fun, then take heed of one of Marshall's biggest success stories to date, Sophie Dahl. "Most gyms are full of surgically enhanced, expensively dressed women checking each other out. But David puts the fun into things" she says. "He's so entertaining that you don't realise just how boring exercise really is."
DAVID MARSHALL'S TOP 10 COMMANDMENTS
Exercise as early in the day as possible, so that your metabolism stays elevated for longer and burns more calories when you're not exercising.
Make sure you eat a carbohydrate meal before you exercise (to give you energy) and a protein meal after exercise (to replenish lost muscle proteins).
Never rely on the scales, use a tape measure to chart your progress – the tape measure never lies, scales can.
Make sure you drink plenty of water before and during exercise. If you wait until you're thirsty you're probably already de-hydrated.
Make sure you warm up thoroughly. Your muscles are like an engine that needs to be the correct temperature to operate efficiently.
Concentrate on your breathing. You should always exhale on the positive movement of exercise (exertion) and inhale on the negative (return).
When you begin any exercise programme start very gently to pre-programme your muscle memory and avoid soreness and stiffness. New exercises need to be a gentle introduction – not a blind date.
Do not concentrate on working 'harder' (quantity), but on working 'smarter' (quality). Channel all your energy positively as opposed to 'huffing and puffing' which wastes up to 70% of energy expenditure.
Perform all resistance exercises slowly and smoothly. When you work quickly momentum takes over and your muscles become a passenger instead of the driver.
Perform your cardio-vascular exercises at a moderate intensity so that you burn fat and not glycogen (blood sugar) – working at a high intensity does not burn fat.