SLIM LIKE SOPHIE, AND KATE MOSS, RIO FERDINAND, RACHEL WEISZ, ANT AND DEC WITH THE STARS' BODYDOCTOR
Fitness and diet guru to the stars slimming secrets
HE is the fitness and diet guru to the stars – the man who helped supermodel Sophie Dahl drop an amazing three dress sizes. Now Bodydoctor David Marshall has brought out a book of slimming secrets so we can all shape up like celebs such as Ant and Dec and Rachel Weisz.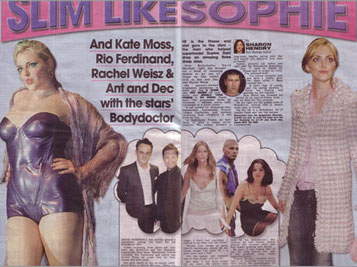 His specially-devised programme guarantees to make you lose A STONE, take FIVE INCHES off your waist and DOUBLE YOUR FITNESS in SIX WEEKS. David says: "The programme works for everybody whether you're unfit, overweight or a couch potato.
"It has worked for Hollywood stars, supermodels, businessmen, Premier League footballers and mothers recovering from childbirth. It will work for you.
"At Bodydoctor Fitness, we don't claim to offer a `magic bullet' solution. We simply promote a long-term, healthy eating plan that will benefit you whatever your state of health."
Sophie, pictured left before and right after her Bodydoctor experience, says: "I went to David for fitness to sculpt my body. I've achieved both. "I'm always energetic now and have a radiant glow for days after I have worked out. "I have bags of energy and I'm eating sensibly. I loved the boxing and sparring we did together."
Now David has revealed his secrets in an easy-to-follow book – and we have the first preview. On the right are the golden rules of Bodydoctor dieting and a week's menu plan to follow. On the left is a Bodydoctor list of healthy foods and two top recipes. Extracfed from The Bodydoctor (Thorsons, £14.99) out now. To order the book from The Sun Bookshop for £11.99 plus £2.25 p&p, phone 0870 163 5005.
DAVID MARSHALL has quickly gained a reputation among the stars for his Bodydoctor diet.
Celebs including, telly hosts Ant McPartlin and Dec Donnelly, supermodel Kate Moss, Manchester United footballer Rio Ferdinand and movie star Rachel Weisz all credit him for their fitness and slim looks.
Ant puts much of his on-screen confidence down to David. He says: "When i'm bigger I don't feel confident. I wanted to be fitter and feel better. 'Within four weeks of seeing David's techniques, almost all my excess weight had come off – a good stone and a half. It's the easiest and simplest way to lose weight and get fit'.
Dec adds: "I lost three inches off my waist. my tailor said, what happenned I told him i'd been to the Bodydoctor." Rio reckons he and several fellow players felt stronger after just four weeks working with David. He says: "I was always able to run for long periods but now I can produce some really explosive bursts.
"Trevor Sinclair, Jermaine Defoe and I all benefitted from training with David We incorporated his sessions see into our workouts."
Healthy Foods
YOU NEED: 3 apricots, 2 Kiwi fruit, 1 nectarine, 1 peach, 1 banana, 8 strawberries, 1tbsp honey, 1tsp grated lemon rind, 2tsp lemon juice, pinch of cinnamon, 7oz (200g) natural live bio-yogurt.
METHOD: Chop fruit into chunky pieces and thread on to skewers. Mix together lemon juice, honey and cinnamon and brush over kebabs. Put kebabs under a hot grill for two minutes, turning regularly. Serve hot with natural yogurt.
SHOPPING JUST GOT GOOD FOR YOU
Shopping is your pit stop on the path to salvation, Here's what to buy. And if you're tempted to stray off the path, just remember: "flat tum, firm bum, round bum, buy some!"
Vegetables 
Sweet potato
Celeriac
Spinach
Kale
Endive
Chicory
Red peppers
Mange tout
Avocado (one a week)
Onions
Carrots
Garlic
Ginger
Celery
Beetroot
Asparagus
Bean sprouts
Broccoli
cauliflower
Watercress
Brussels sprouts
Citrus Fruits
Strawberries
Tomatoes
Apricots
Limes
Lemons
Grapefruit
Kiwi fruit
Peaches
Prunes
Plums
Figs
Fruits
Apples
Oranges
Bananas
Cherries
Pears
Tropical fruits
Cantaloupe melon
Meat
Chicken (organic if possible)
One portion of lean red Meal once a week
Venison
Guinea fowl
Pheasant
Fish
all fish, but especially:
Tuna
Salmon
Mackerel
Herring
Prawns
Seeds and Nuts
Pumpkin seeds
Sunflower
Sesame
Linseed
bok choy
almonds
Brazil nuts
Pumpkin
Hemp
Drinks
Bottled water -still and sparkling
Selection of herbal teas
Dandelion coffee
Ame, Aqua Libra or Purdey's
Pulses
Lentils
Chickpeas
Flageolet beans
Butterbeans
Kidney beans
Black-eyed beans
Grains 
Rye bread
Rice cakes
Oatcakes
Brown rice
Ryvita
Cereals 
Millet flakes
Porridge oats
Wheat-free muesli
Oils
cold-pressed olive oil
Udo's Choice, Flax oil or hemp seed oil
Sesame seed oil
Rice or soya milk (optional)
RECIPE 2: Grilled Red Snapper
YOU NEED: 6 red snappers, 6 mackerel or sardines. For the Paste: 1 chopped onion, 5 garlic cloves, 5 green chillies, 3oz (75g) Coconut flesh, 4fbsp coriander.
Golden Rules
DON'T skip meals. Eat three main meals a day and two healthy snacks.
ALWAYS include low-fat protein in your breakfast. Start the day with a good breakfast including foods such as yogurt, cottage cheese, eggs and seeds.
EAT complex carbs before a workout and consume protein afterwards. You need complex Carbohydrates such as porridge oats, wholegrain bread or rye bread for energy. Always eat protein within 90 minutes after you have finished.
CUT out all sugar and refined carbohydrate such as biscuits, cakes, white bread and refined cereals. TRY to fill at least half of your plate with vegetables.
DRINK at least eight glasses of water a day.
SUPPLEMENT your deficiencies. The minimum you should take everyday is a good multivitamin.
EAT your food in as natural a state as possible . When it is overcooked, it is just pulp with little nutrient content. Similarly choose to grill, steam or stir-fry when you cook to minimise calories.
DON'T weigh yourself and stop counting Calories.
CUT out foods such as sugar and refined carbohydrates, and eat more fruits, vegetables and new grains.
DON'T panic if you have an occasional lapse – you're only human.
ONE-WEEK MENU PLAN 
DAY 1
Breakfast: Yogurt and berry smoothie.
Lunch: Mixed green salad end two-egg omelette.
Dinner. Black-eyed bean balti with mixed salad, natural live yogurt or fresh fruit.
DAY 2
Breakfast: Boiled, scrambled or poached egg. Slice of rye toast with scraping of butter, piece of fresh fruit, glass of orange juice.
Lunch: Mixed bean and vegetable soup or choose from the supermarket range of ready-made fresh soups, piece of fresh fruit.
Dinner. Chicken Provencal, brown rice and salad.
DAY 3
Breakfast: Two fruit kebabs, see opposite page top left for recipe. Natural live bio-yogurt.
Lunch: Grated fresh beetroot and celery sprinkled with lemon juice and sesame seeds, natural live bio-yogurt.
Dinner: Pan-fried Dover sole with wilted spinach and lemon dressing.
DAY 4
Breakfast: Rice cakes with cottage cheese or marmite. hummus or a small amount of peanut butter. Piece of fresh fruit.
Lunch: Small baked potato with a filling of either tuna, cottage cheese, baked beans, hummus or roast chicken breast. Green salad.
Dinner: Grilled red snapper, see opposite page bottom left for recipe.
DAY 5
Breakfast: Bowl of natural live bio-yogurt, one tbsp mixed seeds and diced fruit, herbal tea.
Lunch: Three slices of chicken breast, green salad made with lambs' lettuce, mange tout and sliced courgette. Piece of fresh fruit.
Dinner: Stuffed tomatoes with chickpeas and coriander, mixed salad.
DAY 6
Breakfast: Porridge made with rice milk.
Lunch: Rice cakes with cottage cheese, natural live bio-yogurt.
Dinner: Stuffed aubergines.
DAY 7
Breakfast: Porridge cooked with water or milk substitute and sprinkled with mixed seeds